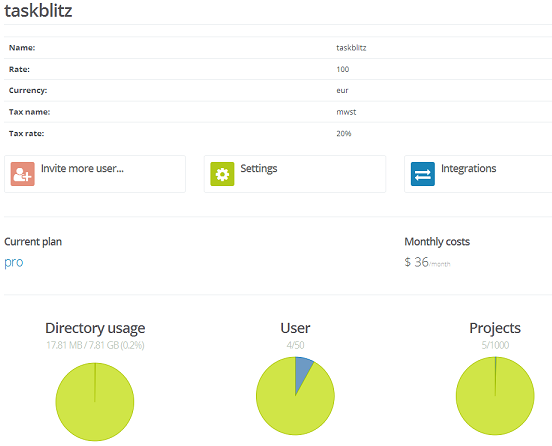 In organization's overview you can see some statistics of your team, your current plan and costs. YOu have quick links to the most important features like settings here.
Team directory
The team directory is an overview of all your organization members. You can navigate to a users profile when clicking on the name. If you are the admin of the organization you can also remove users here.
Organisation settings
In the organization settings you can change properties of your working organization and set the parameters for your working environment.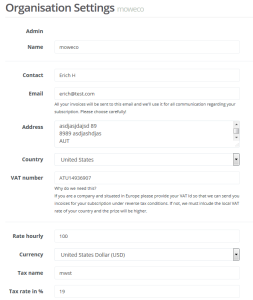 Subscription
In the subscription page you see you can manage your current subscription model and can chose to subscribe to a taskblitz premium plan. You can also change your plan or chancel your entire subscription here with the buttons below the plan boxes. An overview on our plans: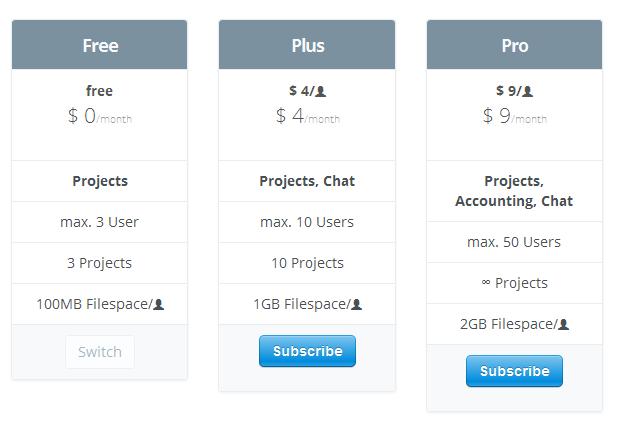 Please consider here, that under some conditions we have to add VAT to the price stated here. If so we show that accordingly in the calculations. The price in the plan box when you subscribe is the price that we are going to charge you in a monthly interval. If you add more users the subscription fee will be calculated on a day base (ex. added user 2 on day 10 of subscription. you only pay from day 10 for user 2 not for the entire month).
Invitations
In this section you can invite user to join your organization and manage the current organization members. Invitation are possible to external email addresses and already registered taskblitz users.
Note that only one user can be the organizations admin. All other get the user role and cannot edit any organization settings.


For an easy on-boarding of your users simply spread the invitation link among your team. The users will be sign up and automatically join your team when clicking it.