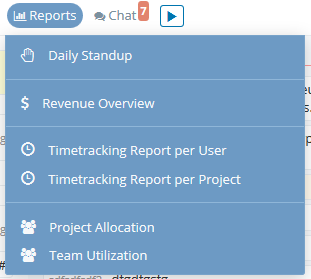 You can chose from various report types when clicking the report item in the main menu:
The daily standup report give you an automatically created report to use in daily standup meetings with your team. It shows for every member the tasks worked on yesterday and the ones for today.
The revenue overview gives you clear insights about the financial health in your organization. All revenue, costs and the profit will be shown her in a monthly or fiscal year base.
In the time tracking reports you can view and filter all tracked time entry per user and project.
The project allocation reports gives you a quick overview who in you organization is part of which project
The utilization report shows you your organizations utilization based on given tasks over the year.