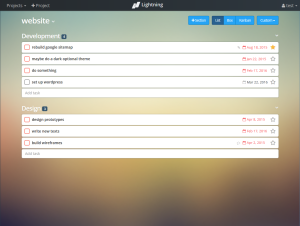 In the past few month we have been working on our new baby: Lightning. Today we are extremely happy to present our new task management app as a beta version to you. The focus of Lightning is to offer a simple, fast and though powerful and flexible task management solution for individual users and small teams. As in contrast our taskblitz solution is a full featured project management for teams and companies working together.
Fast and simple Interface
We use for Lightening the latest web technology and a proven framework for reliable and fast client side application delivery. The entire interface of Lightning is fully drag&drop enabled and delivers an amazing user experience.
Flexible project structures
Kanban, list or boxes? There are many visual ways to structure your tasks and projects. In Lightning you can instantly switch between these three visual options.
Shared data layer
The best feature is that taskblitz and Lighning share the same data layer. This mean for you as a customer you can easily switch between the two apps, can choose which app you are going to prefer in your day to day use and you only have to manage one account.
As Lightning is currently a beta version, we would be very happy if you provide valuable feedback to us.