Getting Things Done is a very popular time-management method, described in the book with the same title by productivity consultant David Allen. It is often referred to as GTD. In this article we will show how to apply the GTD rules and use its principles with taskblitz. The heartbeat of GTD is five simple steps that apply order to chaos and provide you the space and structure to be more creative, strategic, and focused:
capture
clarify
organize
reflect
engage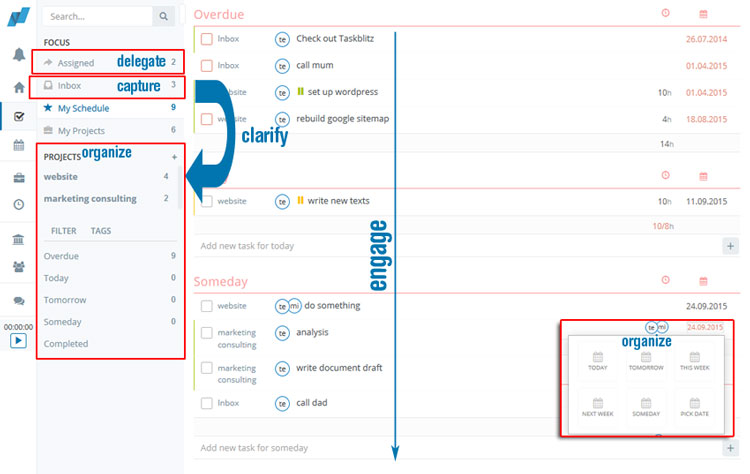 To apply this concept in our app you just need to use our tasks sections. To capture new tasks, ideas or anything that comes to your mind you can create a new task in your "Inbox". You have the same function also in our mobile apps. The next step is to clarify your tasks from the Inbox. You should work through and decide whether to do them right now (if it requires less than 2 minutes) or delegate them, or organize them in one of your projects. To organize your tasks we give you some very powerful concepts:
You can use all of them combined or just a set of them. You should reflect at least once a week an review your inbox tasks, your closed and delegated tasks and get everything organized again. Engage is the last step where you actually work on tasks and tick them as complete after finishing them. In taskblitz you can also track time to monitor later the gap between estimated and actual task completion time.
If you want to dive deeper into the concepts of GTD we recommend you to buy the brand new revised edition of David Allen's book here: Getting Things Done